PR Syndicate honours 'Cyber Law Guru of India', Na.Vijayashankar
PR Syndicate, (a professional organization of PR Professionals in Chennai,)  celebrated its First Anniversary on 20th January 2007 at Russian Cultural Centre. The Chief Guest Rev.Fr.Jegath Gaspar Raj, Founder of Tamil Maiyam, Dr.Nirmala Prasad, Principal, M.O.P Vaishnav College for Women and Dr.Tamizhisai Soundararajan, General Secretary, B.J.P. addressed.
On the occassion, "Award of Excellence in Public Life"  was presented to 'Cyber Law Guru of India' Na.Vijayashankar, A.Irudhayam, Deputy Secretary, ICAI, T.Anand, Tamil Poet, N.B.Sukkur Basha, Editor, Tozhil Nesan and S.V.Ramaswamy, President, Stenographers' Guild. N.C.Siddharth, M.V.Mahesh, P.E.Wilfred and S.Bhuvana of the PR Syndicate spoke on latest trends in PR and Corporate Communication. N.Thanigaimani, General Manager, Dr.Mohan's Diabetes Specialities Centre, delivered vote of thanks.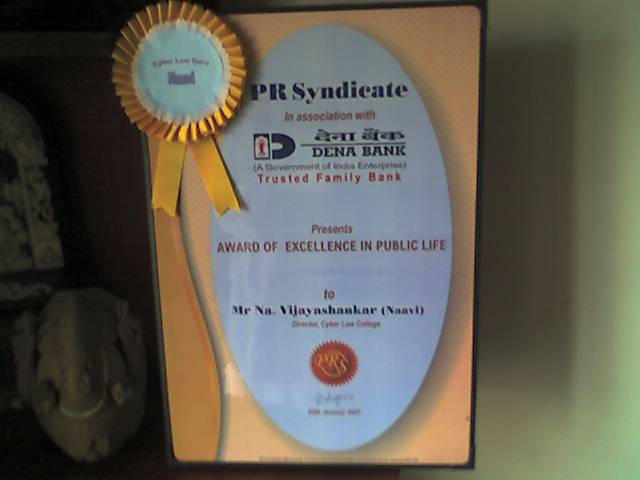 ANNIVERSARY DAY CELEBRATION
20th JANUARY 2007
RUSSIAN CULTURAL CENTRE HALL AT 6 PM
Welcome Address given by M.V.Mahesh, Dy General Secretary
I am delighted to be with PR Syndicate giving support to its characteristic and excellent social initiatives. PR Syndicate anniversary is an appropriate occasion for me to talk about the relevance and authority of public relations in this outsourcing age. I recall the vision of Ed Bernays, the founding father of the PR industry, who wrote a path-breaking book Crystallizing Public Opinion in 1923.Due to emergence of IT and ITES sectors, the rules of the corporate game have changed. Let me begin with some background. When I say public relations, I wonder how things change nowadays with accelerating speed. In today's technology environment, every company needs to know where it fits in a market. PR helps an organization in creating an identity in the industry, media and community. There are two components that comprise public relations: one is behavior, the other is communications. Key for success with an emerging technology business is close customer relationships. According to a study by Michigan Ross School of Business 62% of all new successful product innovations come from customer needs and suggestions. Competitive market analysis helps to improve business by revealing how you are better than the other alternatives. The primary mission for any PR person is to practice and be prepared for audience reaction – no matter if it is good or bad. An effective PR campaign is executed based on most successful presentations. It is mainly our media colleagues who portray the PR professionals as the most vital participant of any corporate venture. The major role of PR professional is communications. We all know that communications moves in two directions audience-wise – external and internal. In the past, the emphasis has been on the external, but today, CEOs have come to realize that their most important audience is really their own employees! This, I believe, leaves us with the challenge of developing people who can deliver on the full promise of public relations. Above all, in our hitech corporate world, vision of the CEO is identified as extremely important in increasing shareholders value. In fact, if we look at today's CEOs and compare them with their counterparts of the 1950s and 60s, we can see a huge difference. Today they write books, grant spontaneous interviews, and actively promote their personal philosophies. Real leaders, like Intel's Andy Grove, are great because they demonstrate integrity, provide meaning, generate trust and communicate values. Yes, finally it's about trust and values! And that is why I am extremely optimistic about the future of Indian industries
I welcome Rev.Fr.Jegath Gaspar Raj, the Managing Director of Goodwill Communications Limited and founder of Tamil Maiyam
I welcome Prof Dr.Nirmala Prasad, the Principal of M.O.P Vaishnav College For Women who is the most inspiring professional and a true motivator for the youth. If anyone fails to recognise the excellent leadership qualities and professional standards of Dr.Nirmala Prasad, he/she will be unfit for any social initiatives particularly in Chennai
I welcome Dr.Tamizhisai Soundararajan, Renowned Physician & Social Activist who is the General Secretary of BJP
I welcome the awardees "Cyber Law Guru of India" Na.Vijayashankar (Naavi), Mr A.Irudhayam, "Kavignar" T.Anand, "Seva Rathna" Mr S.V.Ramaswamy and Mr N.B.Sukkur Basha
I personally welcome the media people, our friends and well-wishers
Thank you ladies and gentlemen for your attention!
Maney V.Mahesh
Dy Gen Secretary
PR SYNDICATE